Dear 2017,
We're nearly there, my friend. It's December 29 and we're closing this lap together. Looking around, I have the feeling that in lots of ways, I'm not all too different from when we met some 360ish days ago. I haven't lost weight, I haven't written the book that I feel pounding inside me and I haven't shifted my life in any huge way. And because of all that, it can feel hard to know what to say when people ask that run-of-the-mill and yet loaded question … So, what's new? What's been going on?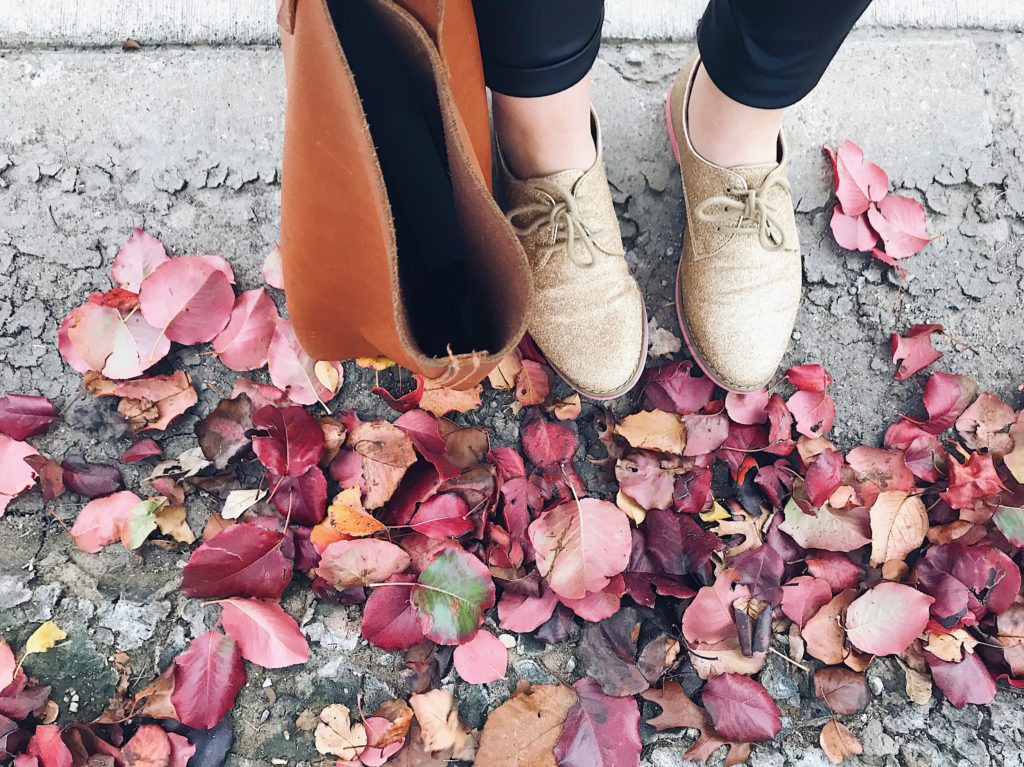 The real answer — at least from the outside — is not much. I've been living – and for the most part, it hasn't been that exciting. It's been quiet and slow. But underneath that quiet and slow, there's been a major shift, it might even be one that will turn out to be a life-changing turning point. I've realized, as you've witnessed, 2017, that it's time to unnumb.
Now, I know that "unnumb" isn't a real word, but that doesn't make the movement any less true. Something in me shifted at the beginning of this year, like God bent down and whispered "Now." A light turned on and my insides sat up. It's been slow and quiet, but it has been happening all the same. And while I'm sure I've taken backward steps, I'm still sitting up, maybe even standing and taking those first few strides. No more lying down in the grief. It's temping to stay there – I've wished for it more than once because I was afraid that if I left that place, the memories would leave too. But it's simply not true, friends. Those memories, that person, they go wherever you go. And amazingly, they somehow show up ahead of you, meeting you on the road in surprising ways.
I read a column – just today – by Elizabeth Glbert that struck me. It felt like a kiss from heaven with it's timelyness:
"Yes, you have been hurt. Yes, your life has not gone as planned. Yes, your mind and body have taken some serious blows. And yes, sometimes we all need gentleness and care. But we must also be mindful not to baby ourselves to the point of incapacitation. Sometimes gentleness is the direct opposite of what your mind and body are actually crying out for. Life wants to be lived. Knees want to be used. And sometimes the only cure for pain is to go faster."
Life wants to be lived. And 2017, you helped me realized that it's time. At this same point last year, when I was doing the dance of dreaming about what 2017 could be like and asked God what He wanted it to be like, I came upon Psalm 86:16-17:
But you, O God, are both tender and kind,
not easily angered, immense in love,
and you never, never quit.
So look me in the eye and show kindness,
give your servant the strength to go on,
save your dear, dear child!
Make a show of how much you love me
so the bullies who hate me will stand there slack-jawed,
As you, God, gently and powerfully
put me back on my feet.
And somehow, when I read those last few words, I felt an echo … put me back on my feet … to run. Run this life that is precious, a battle and beautiful beyond belief. Run this life because though it feels long, it is indeed very short and important. Relationships matter, showing up matters, stories matter, the goodness and glory of God matter.
The time for laying down because the grief is too great needs to be done. The time for sitting on the sidelines and watching others needs to be done. The time to get up, stretch those hamstrings and get on down the road is here. It's time to get going.
I told my family and friends at different points this year that the word (and work) that God gave me for this year was "fearless." That's a BIG word. I mean, B-I-G. Fearless – that's unstobbable, that's a force, that's a reckoning. And the thing is, this year, at least on the surface has not felt fearless. In fact, I look around on December 29, and it seems in lots of ways like nothing has changed.
I haven't lost much (if any weight), I haven't written the book that I think is living inside me, I haven't bought a house, fallen in love or gained an all-together new life. But I've woken up to the fact that it's time to unnumb – and I've started figuring what that's going to take. I starting writing again and showing back up here – even though it's just me here and you (I'm so glad you're here!). I sent Christmas cards even though I'm single and it felt vulnerable. I went back to the Paris for the first time since living there and it was a total joy. I started showing up to the gym – out of shape and practice — and God has met me there like a friendly Jillian Michaels. I've asked myself the hard questions about what it might look like to never get married, not have someone to take care of me, to have to figure it all out by myself. I've turned them over. I've sat with them. I chose my family – for Friday nights, Saturday afternoons and more because they are some of my dearest. I started figuring out what I really want again – finding a new roommate, staying where I already live because it feels right, buying the silver, sparkly skirt because I love it. Figuring out who I am and who I want to be. And now I'm not just dreaming about what 2018 could look like, but planning how to get there. Getting prepped to run brave for a whole year.
2017, thank you for not quitting on me. Thank you for trekking with me and bearing witness to the numb and the unnumbing. Thank you for being the first step toward the thought that a spring might exist. Thanks for being you — it wasn't all beautiufl, it wasn't flashy, but it was important. Thank you for being, in small, quiet ways, the first fearless steps into the future of brave.